NUSSBAUM FEATURE STORY
THE ADVENTURES OF BILL PETERSEN TRUCKING, TRAINING, AND TRAVELING THE COUTRY
Read Story
Tracy, California, started as a booming railroad town and quickly grew into a prosperous city of over 90,000 people. It was here that Nussbaum's very own Bill Petersen was born.
Perhaps Bill's childhood first fueled his love for the West, exploration, and adventure. His mother was a Licensed Vocational Nurse, while his father operated heavy-duty machinery. They taught him to have a responsible work ethic and treat others with care—something Bill clings to today. Bill spent the first years of his life in transit—he was born in Tracy, moved to Las Vegas, Nevada, and then moved to Hawthorne, Nevada. When Bill was twelve years old, the family moved again—this time northward to Vanderhoof, British Columbia.
British Columbia is the westernmost province of Canada, flanked by the vast Pacific Ocean on one side and the imposing Rockies on the other. Vanderhoof is a rural community with more trees than people, and the Nechako River that flows through it is an infamous rest stop for migrating birds. It's a place like this where wildlife and wild little boys flourish, although maybe not at first.
Bill recalls, "This city boy was very confused. I remember running into the house to use the bathroom, and I couldn't find it. I told my dad, 'They took the bathroom!' He turned around and said, 'You see that little building outside? That's our bathroom now.'"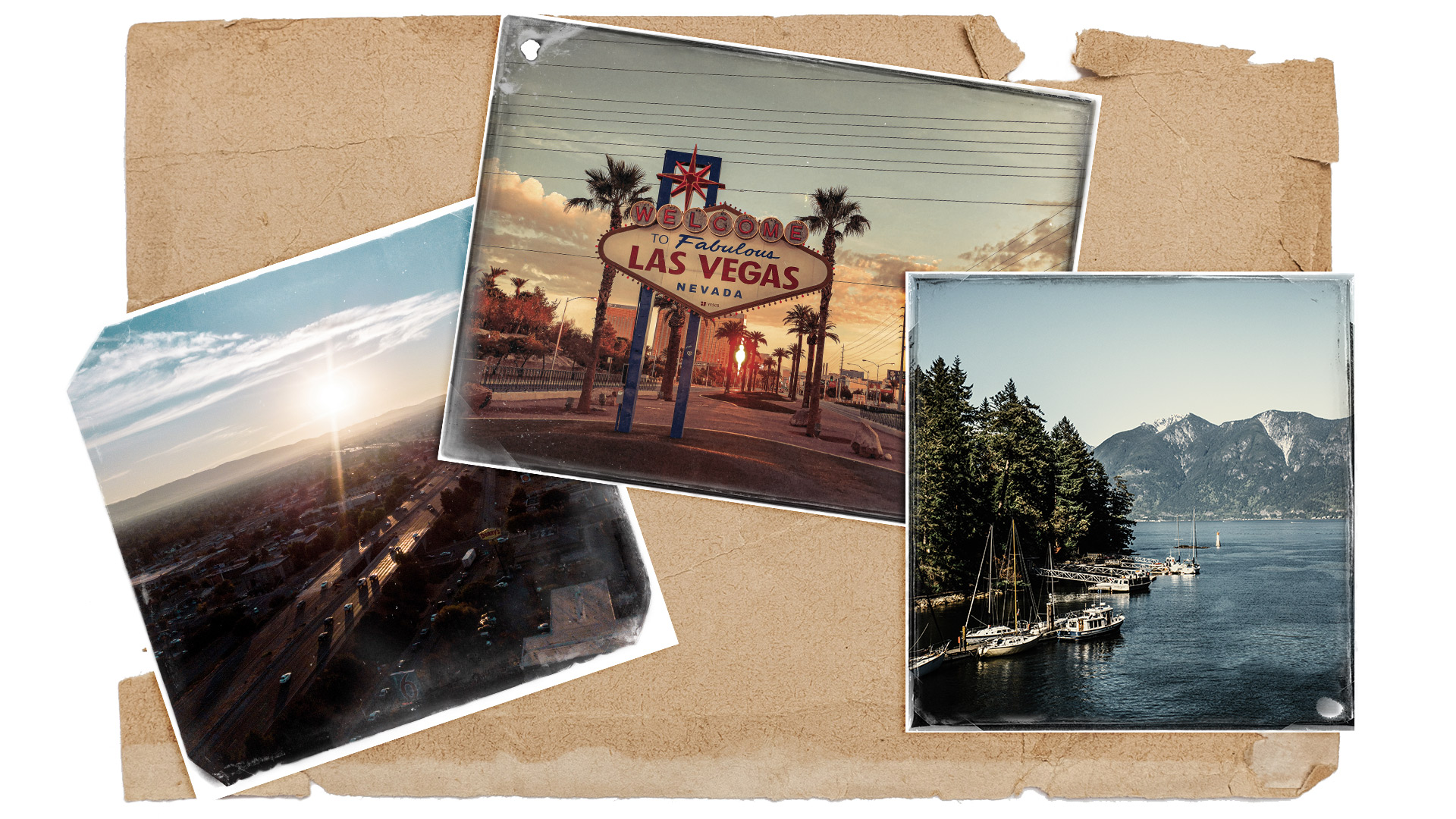 From Trifling With the Law to Enforcing The Law
The winter Bill was 16, his dad sent him to his uncle to help work on the Alaska pipeline. Bill's job was hauling pipe on a flatbed—his first experience driving a semi. Bill would drive during the day, and his uncle would take over at night. Because he was on private roads, Bill found some protection from the law, although legally, he had to be 18 to get his CDL.
At 18, Bill saw an opportunity to enforce the law instead of trifle with it. He returned to the lower 48 states and joined the U.S. Army, dedicating five years to serving as a non-commissioned officer. Bill was stationed at Fort Benning, Georgia, and then Fort Hood, Texas, where he spent his days guarding entrances, transporting prisoners, and policing the base.
One day, Bill was monitoring the base housing development and noticed a young girl driving 25 miles per hour over the speed limit. He quickly pulled her over and gave her a ticket, then sent her on her way. Two weeks later, the base commander called Bill into his office to thank him for giving his
daughter a ticket.
Bill's service in the military grew his appreciation for safe driving and enforcing traffic laws. When he finished serving, Bill decided to move on to something he was already familiar with and enjoyed—driving a truck. Thus began Bill's (legal) CDL career.
"MY DAD ALWAYS TOLD ME, IF YOU WANT TO GET A JOB, FIND SOMETHING YOU LOVE, AND IT WILL NEVER BE A JOB BUT AN ADVENTURE."

Bill Petersen

Driver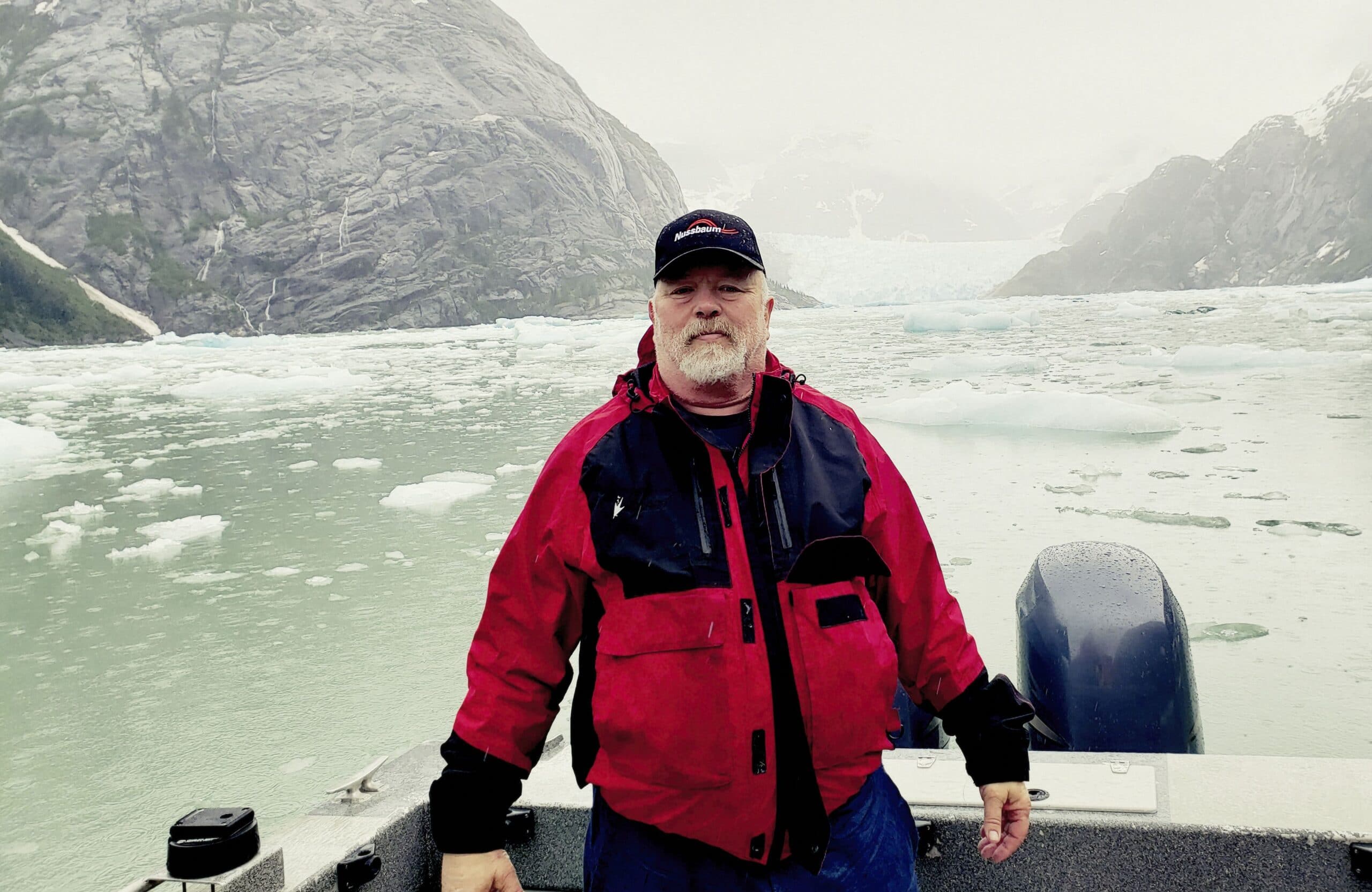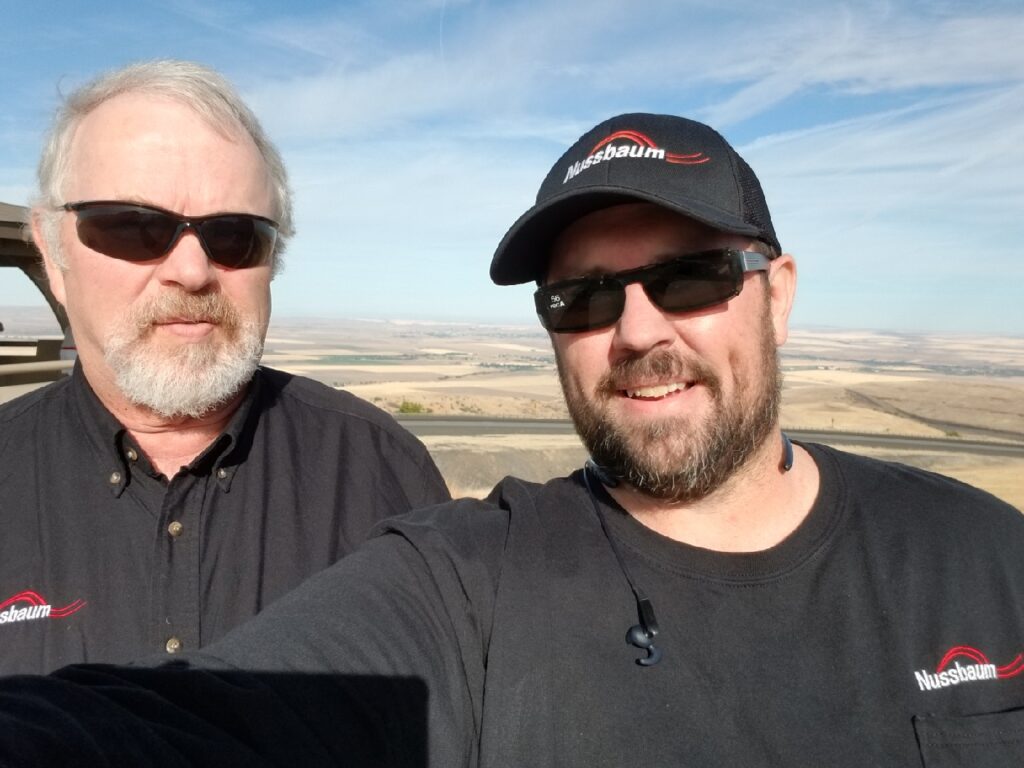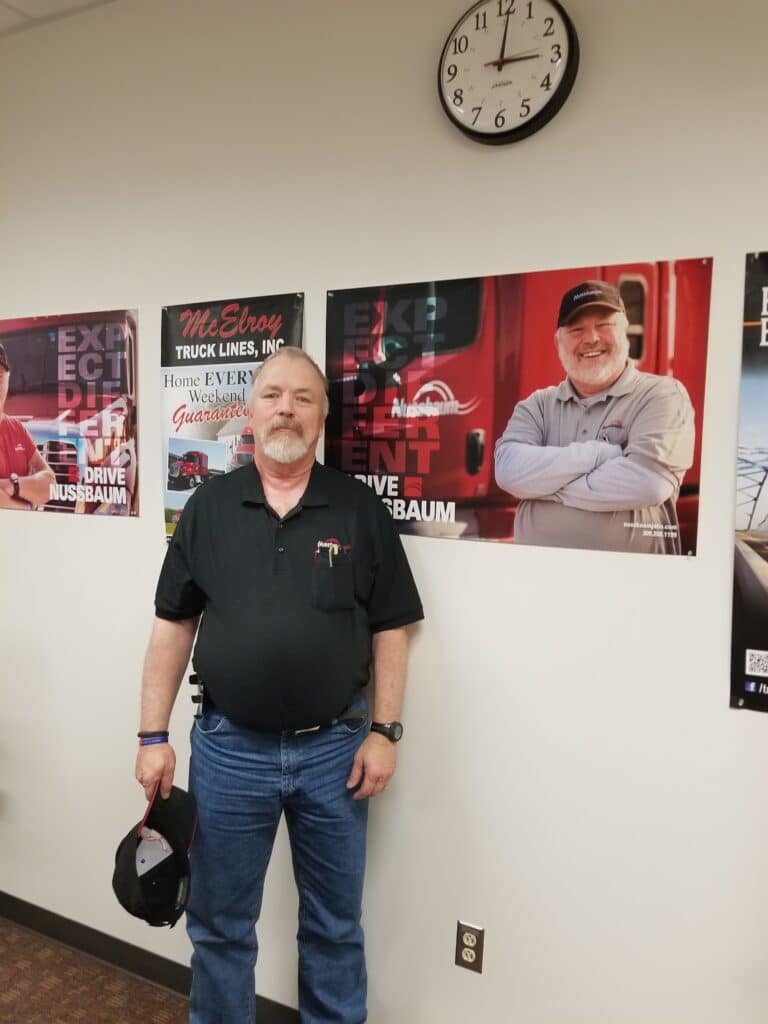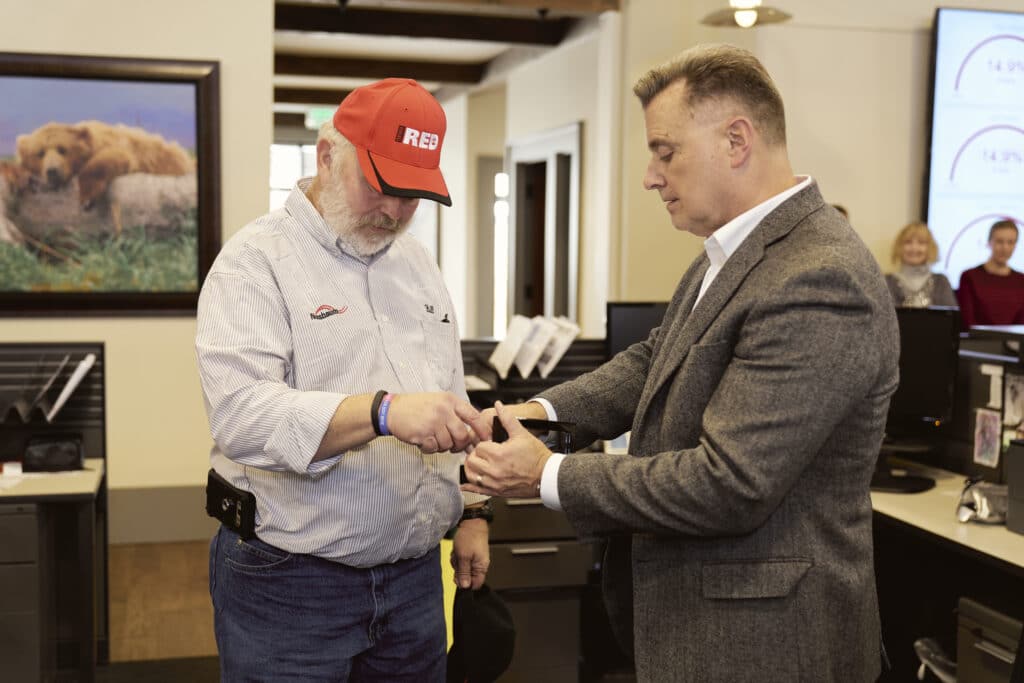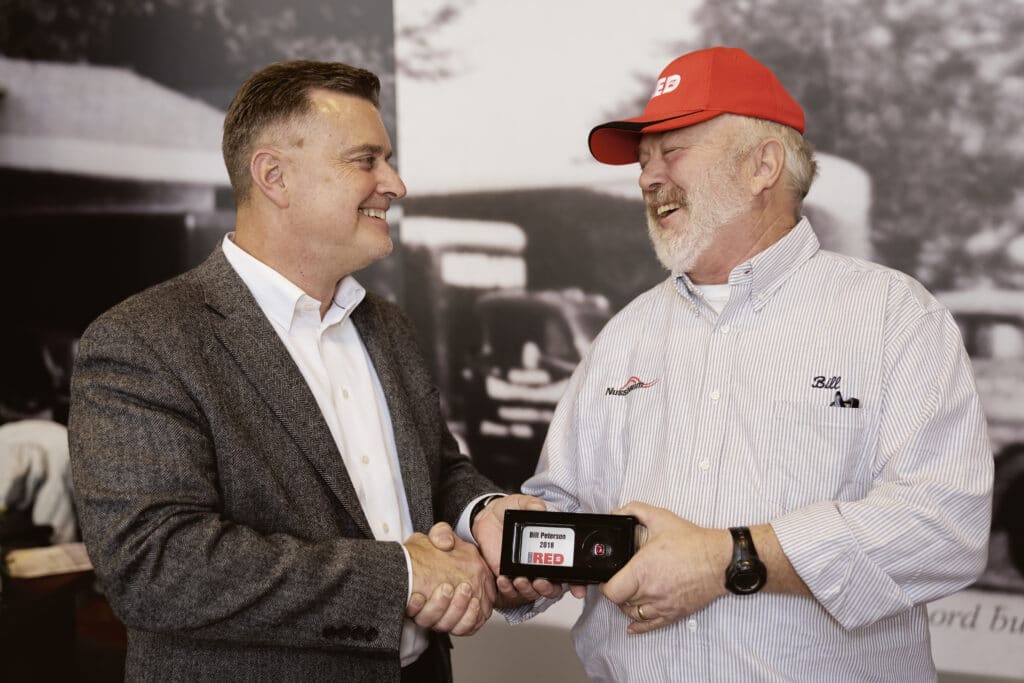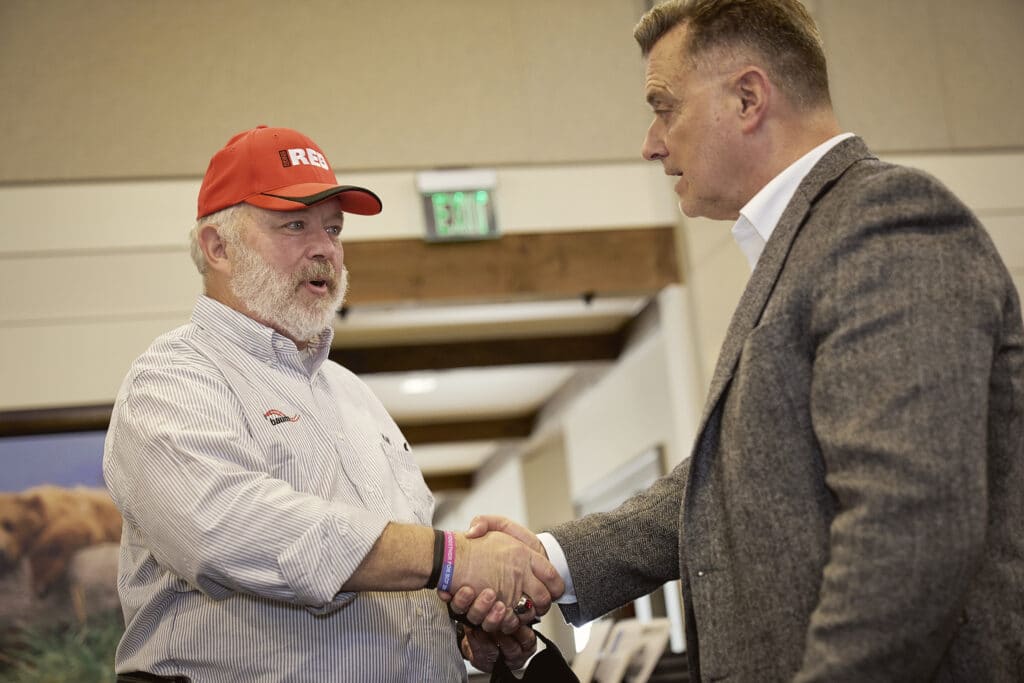 Taking Dad's Advice
"My dad always told me—'if you want to get a job, find something you love, and it will never be a job, but an adventure.'" Bill took that advice and found what he loved: driving out West. Perhaps the wide-open spaces and ever-changing landscapes reminded him of his childhood, or maybe it was the freedom to explore and see new places that fueled his fire. Whatever it was, Bill Petersen started driving that day and didn't stop, and today he has almost 50 years of driving experience under his belt.
However, those years haven't come without their share of bumps in the road—job changes, truck exchanges, an abundance of miles, lack of miles, and more. You might be surprised to hear that Bill Petersen—the Nussbaum trainer, military officer, 500K safe driving miles, Level 5 Certified RED Bill Petersen—hasn't always had a perfect driving history. "As I have gotten older, I have gotten much slower," Bill muses.
While some may view bumps in the road as a negative, Bill's experiences have equipped him to be an incredibly knowledgeable and valued trainer at Nussbaum. Bill can relate to his students in just about anything they might experience over the road. "I want to share my experience with my students and pass it on," he says with a smile.
"HE WAS VERY PATIENT WITH ME, WHICH YOU NEED TO BE IF YOU ARE GOING OUT WITH A ROOKIE. I'D NEVER BEEN OUT WEST AND HE KNEW I WANTED TO SEE A LOT. HAVING HIM WITH ME WAS SUCH AN ASSET."

David Gagnon

From His time training with Bill
Owner Operator to Company Driver
In 1997, Bill's father-in-law's health declined. Bill and his wife decided to move east to support him, landing in Danville, IL. In 2013, Bill was introduced to Nussbaum. Before starting as a company driver at Nussbaum, Bill spent many years as an Owner Operator. Bill recalls, "I didn't want automatics, a company to govern my speed, or to work with e-logs" —all of which Nussbaum did. At that point, Bill was a stereotypical cowboy; he wanted to run hard and fast and get miles.
Bill realized that Nussbaum was different after going through our Train-the-Trainer course and working alongside peer drivers. They showed him their paychecks and explained Nussbaum's scorecard system, which increased their pay independently from how many miles they were pushing. Bill hung up his cowboy hat and decided to make his scorecard the best it could be.
Today, Bill Petersen is our first driver to reach Certified RED Level 5, achieving 500,000 miles of safe driving. His tune has changed a bit since 1997; now, he'll tell you that automatics are helpful in traffic (you don't need to wrangle the clutch constantly), and driving below top speed helps with fuel efficiency and safety. Electronic logs keep drivers honest in their hours of service, yet miles are still high.
For Love of the West
"Bill was my first hire," recalls then-Recruiter Tianne Overmyer. "He's a big guy with a big personality. He's very respectful and always willing to do the job—as long as you send him west."
Tianne isn't the only one who mentions "Bill" and "The West" in the same sentence. In 2015, Caleb Gee (who was Bill's Driver Manager) would plead with the planners if Bill got a load headed east: "But it's Bill! There has got to be another load!"
Our planners do their best to work with preferences but can't always accommodate them. Bill has been to all 48 states in his nine years with Nussbaum. He doesn't always get to go West. But when you love something, everyone around you knows about it. And everyone at Nussbaum knows that Bill Petersen loves the West. When asked why he loves the West so much, Bill will reply, "because it's not the east!"
Forerunner of Nussbaum's Training Program
Nussbaum's training program launched in 2016, and Bill Petersen was one of the first trainers. "Bill has always been a standard-bearer for how to run an efficient week," notes Nussbaum CAO Jeremy Stickling. "When we built our training program, we wanted to mix in trainers with different strengths. Bill brought that skill set to our initial trainer group; he is a social person who loves people yet doesn't have to do all the talking. That made him a great fit! Bill happily does a lot of our Rocky Mountain training, something that quite a few trainers prefer not to do."
The program has six phases over six months. At the end of the second phase, Nussbaum requires students to drive in the mountains, one of the more challenging terrains to navigate as a driver. Inclement weather, steep down/upgrades, and winding roads are some highlights. It's not for the faint of heart, but Bill gladly leads Nussbaum's training efforts in this arena. Did he find a loophole ensuring he could drive out West? Maybe.
For two weeks at a time, Bill will work with a student, coaching them to control their truck going up and down the mountains. "I drive first," says Bill. "I let them take the time to enjoy the scenery and take pictures. They also need to watch what I am doing before they attempt to drive down such steep grades." The students learn when to use their cruise, jake brakes, and how to prevent their brakes from getting too hot, "because if you go downhill holding your brakes, your brakes won't hold you."
Since the program's conception, Bill has trained about 30 students. He recalls that his first training experience at Nussbaum was unique: "We had a load canceled, so I rented us a car in Seattle, Washington, and we rode the ferry back and forth. We also rode the Space Needle."
David Gagnon, a trainee of Bill's, remembers his trainer having a fantastic sense of humor, the patience of a saint, and the ability to have fun through it all. Bill knows his students will love the West just as much as he does, so he makes it a point to take photos of famous landmarks for them while they're driving (and sends the pictures to them). They even stop at rest stops he knows they'll love.
"He was very patient with me, which you need to be if you are going out with a rookie," David says. "I'd never been out West, and he knew I wanted to see a lot. Having him with me was such an asset for getting out of a very tight shipper. He knew that I would run into a turn I couldn't make if I followed the GPS, so he routed me around, and there was no issue."
When the pair stopped at a Gear Jammer next to Louis & Clark State Park, Bill encouraged David to get out and explore. David pulled up his All-Trails app and started hiking—two miles, right along a river. Back in the truck, Bill pointed out landmarks from miles away—Mount Saint Helens, Mount Hood, Mount Rainier, Snoqualmie Pass, and even Multnomah Falls—one of David's bucket list items.
So let it be known—if you're looking for Bill, you'll likely find him with a student in the mountains of Montana, Idaho, or Wyoming, thoroughly enjoying himself.
"He's a big guy with a big personality. He's very respectful and always willing to do the job — as long as you send him west."

Tianne Overmyer

Student Program Coordinator
Nussbaum's Very Own Travel Guide
If you're looking for trip recommendations, Bill's your guy. Have you ever seen the Red Rock canyons defying nature with their color? The jagged Rocky Mountains poking the sky? The windswept prairie lands turning to gold and then purple as the sun goes down? Have you been through the longest mountain tunnel, traveling under the Continental Divide? I-70 through Colorado and Utah is Bill's favorite route because it takes you through it all. "It is the most gorgeous country right when the sun is starting to set, and it hits those cliffs," Bill says fondly. "There is nothing like it."
Bill also recommends Glacier National Park. Glacier is located on the Canada-United States border in Montana and covers over 1 million acres of wild natural beauty. One of America's most famous parks, it's just a snapshot of the scenery Bill enjoys while traveling West.
Always on the Road
Bill is one-of-a-kind and a beloved fixture at Nussbaum. Talking to Bill, you're bound to feel that wanderlust pull at you as he talks about his life as an over-the-road truck driver. We appreciate his faithfulness and consistency in his love of the West and in his career here at Nussbaum. In his off-hours, Bill spends time doing … more driving! He loves it. "Nussbaum is family," Bill says. "My wife told me that if I ever leave Nussbaum, she is divorcing me and marrying the company."
We'll just leave it at that. Bill, we hope you're here for a long time!
Miles Driven with Nussbaum
Years of Driving Experience