The cost of everything is going up, which means trucks are getting more expensive to operate. This year, diesel fuel alone has shattered records, and inflation is driving up prices for parts and components. Weathering this economic storm requires fleets to be intentional about fuel efficiency and strategic use of their resources. We can't control the price of fuel and other inputs, but we can control how effectively we use them.
For example, consider the problem of engine idling – a seemingly insignificant cost that adds up over time. Idling is defined as "any time the engine is running, but the truck is not moving." The Argonne National Laboratory (part of the U.S. Department of Energy) estimates that vehicle idling in the U.S. consumes over 6 billion gallons of fuel each year, costing businesses and consumers $20 billion. It may not appear on your income statement (it's well-hidden under "fuel expense"), but it is a long-term cost that will affect a fleet's profitability.
How can we address the issue of idle time and ensure efficient use of our resources?
Technology & Sustainability – A Winning Combination
To help reduce idle time and maximize battery life, Nussbaum uses Road Warrior Pro solar panels from Merlin Solar Technologies. At less than 12 pounds, these flexible panels conform seamlessly to the roofline of our Freightliner Cascadias.
In the past, our truck batteries lasted a maximum of 10 hours and even less for drivers who use a CPAP machine or other "extra" amenities (TV, gaming). After 10 hours max, the truck would need to idle for two hours or travel down the road for four hours to recharge the batteries fully. And if a driver is waiting at a shipper or held up for some other reason, their only option for more battery life would be to idle.
However, the solar panels can generate an additional 10 hours of battery life, outputting 500 watts and 40amps. This means a driver can comfortably enjoy their 10-hour break without having to idle. And if needed, they could power their base amenities (air conditioner, lights, fridge) for up to 20 hours! During a 34-hour weekend, the solar panels can recharge the battery multiple times, enabling a driver to spend their entire reset with no idle time.
Data from Merlin suggests that trucks using solar panels see an average idle time reduction of 4.2%. If a truck's idle time is normally 10-15%, this represents a total reduction of 25-40%.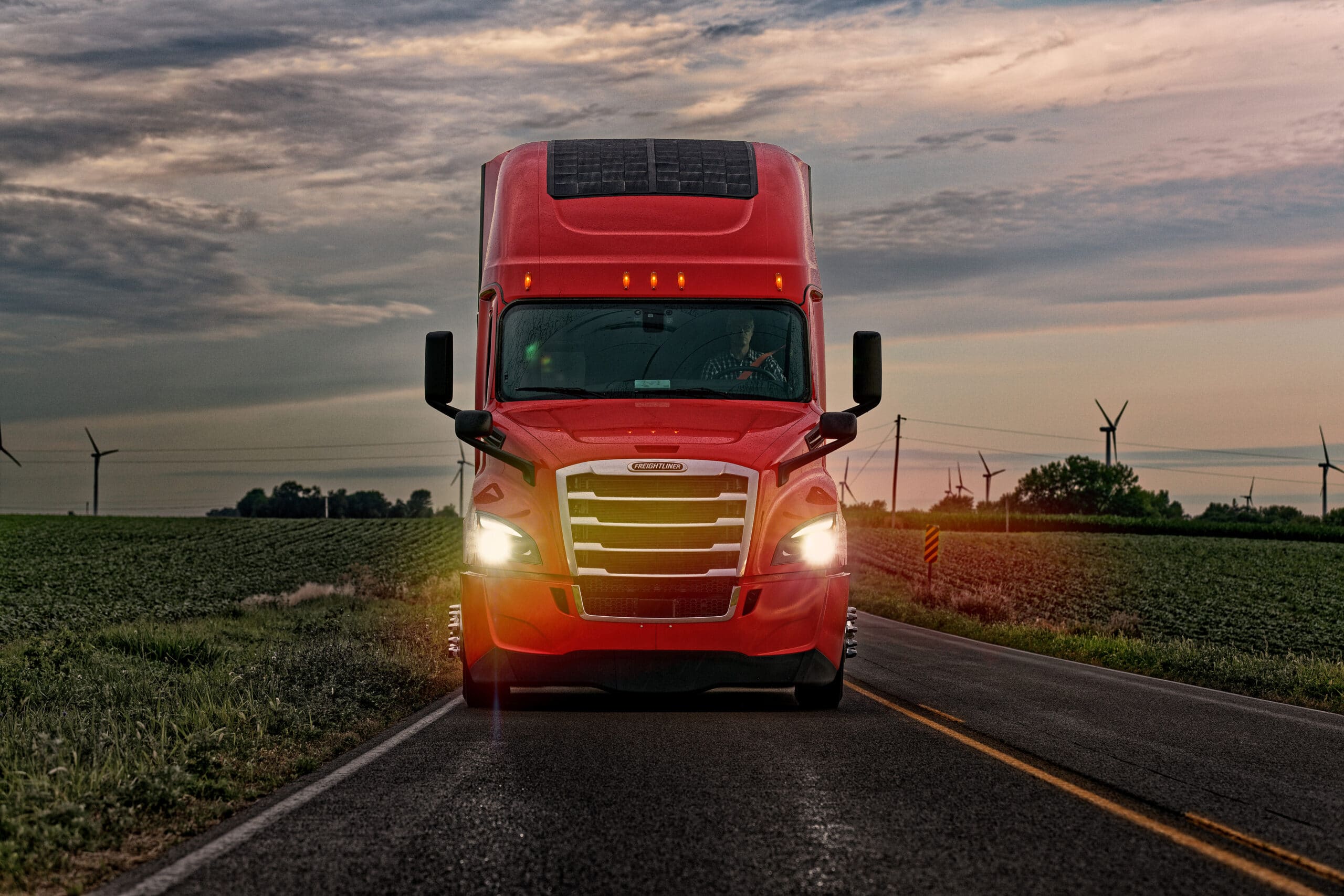 Long-Term Benefits
By the end of 2022, 70% of our fleet trucks will be equipped with Merlin solar panels. Since deployment, Nussbaum has enjoyed benefits such as:
Fuel savings and increased productivity. We save one gallon of diesel fuel ($5.57 – the current national average) for every hour of reduced idle time. During a 34-hr weekend, our drivers can save up to 12 hours of idle time (12 gallons = $66.84).
Increased battery life. Before deploying solar panels, our truck batteries lasted only 18 months. Today, our truck batteries last 3-4 years, cutting the replacement cost from $5,333 to $1,600 over the 5-year life of the truck.
Increased longevity for starters and alternators.
A Driver Testimonial
Last winter, one of our drivers posted on LinkedIn that the solar panels had helped him achieve a total truck idle time of less than 1%. But even more striking, this driver was out for four weeks at a time, meaning he spent his 34-hour resets in the truck. Despite this, he could power all of his amenities and still keep his idle time to the absolute minimum
A Sustainable Solution
By transitioning to renewable power, we can cut unnecessary emissions and reduce our carbon footprint. As we drive cost out of our business through fuel efficiency and increased longevity of our resources, we can also drive long-term environmental costs out of our industry. As is often the case, innovations in technology and sustainability have merged to create our roadmap for the future.