Today, we'd like to introduce the Nussbaum sales team.  
We may be slightly biased, but we think this group is outstanding. Why? Their commitment to our customers and each other is second to none. They're a diverse group too, with experience spanning multiple Nussbaum departments and everything from insurance to preschool education prior!  
Each team member finds energy in different aspects of the job. But there is one thing they all share in common: a passion for taking care of you. Their priority is getting to know you and your business so they can deliver the "Nussbaum Experience," tailored to your needs.  
So, without further ado….  

Husband to Ashleigh, father to Gavin, Ella, and Easton

Eight years with Nussbaum

Known to disc golf, fish, and hunt sand dollars

Restaurant fav: Chipotle

Passionate about his faith and family
College baseball, rental car management, maintenance, recruiting, sales…. Mark's done it all! And in each job, he's gained fresh perspectives on people and business that shape his work as a Business Development Manager. From beginning to end, Mark enjoys every aspect of the sales process (he describes his job as "fun"). But in particular, he loves the development piece: finding new customers and connecting them with a custom solution.
In every situation, Mark wants to share the joy of his Christian faith and positively impact others. He also enjoys a good adrenaline rush – hitting a home run in his softball league or closing some new business usually does the trick. In his off hours, you'll find him at home enjoying time with his family.

Wife and mother to two teenage boys
Sales team's resident galvanizer
Expert weekend trip planner
Known to score bargains at thredup.com and Hobby Lobby
Results-driven – let's get to it!
Originally a preschool teacher, Angie has spent the last 15 years in customer-facing roles. She discovered her passion working in a call center, and right from the beginning, being in front of customers felt like home. "That's what I like the most about my job – all the customer interactions," says Angie.
As Customer Success Manager, Angie oversees the customer onboarding experience, working across departments to ensure communication flow and a smooth integration with our system. She's also the Energizer Bunny of the sales team, ever rallying the troops and ready to hit the ground running when a new customer arrives. (Maybe the energy comes from being a coffee addict connoisseur?).
In her off hours, Angie enjoys scrapbooking, decorating the house, and taking weekend trips with her family. They've discovered many "hidden gems" right here in the Midwest!

Husband, father of three with one on the way

Five years at Nussbaum

Loves ethnic food; known to eat adventurously

Inventive and encouraging

Enjoys seeing customers and coworkers succeed
The inventor/tester of the group, Brent enjoys trying new things. Growing up on the west coast and living internationally for seven years exposed him to lots of "new," and he's learned to embrace it!
As Business Development Manager, Brent enjoys bringing value to customers and meeting their needs with creative problem-solving (i.e., inventing). He also loves collaborating with other departments at Nussbaum (operations, pricing, etc.) to deliver the best solution. Through it all, he trusts God to provide the increase for Nussbaum as He sees fit, just like our statement of faith says: we believe God owns this business, and we're just stewards for a season.
Outside the office, you'll find Brent exploring new outdoorsy places and playing with his kids. If you take him out to eat, he'll probably want to try the local favorite dish!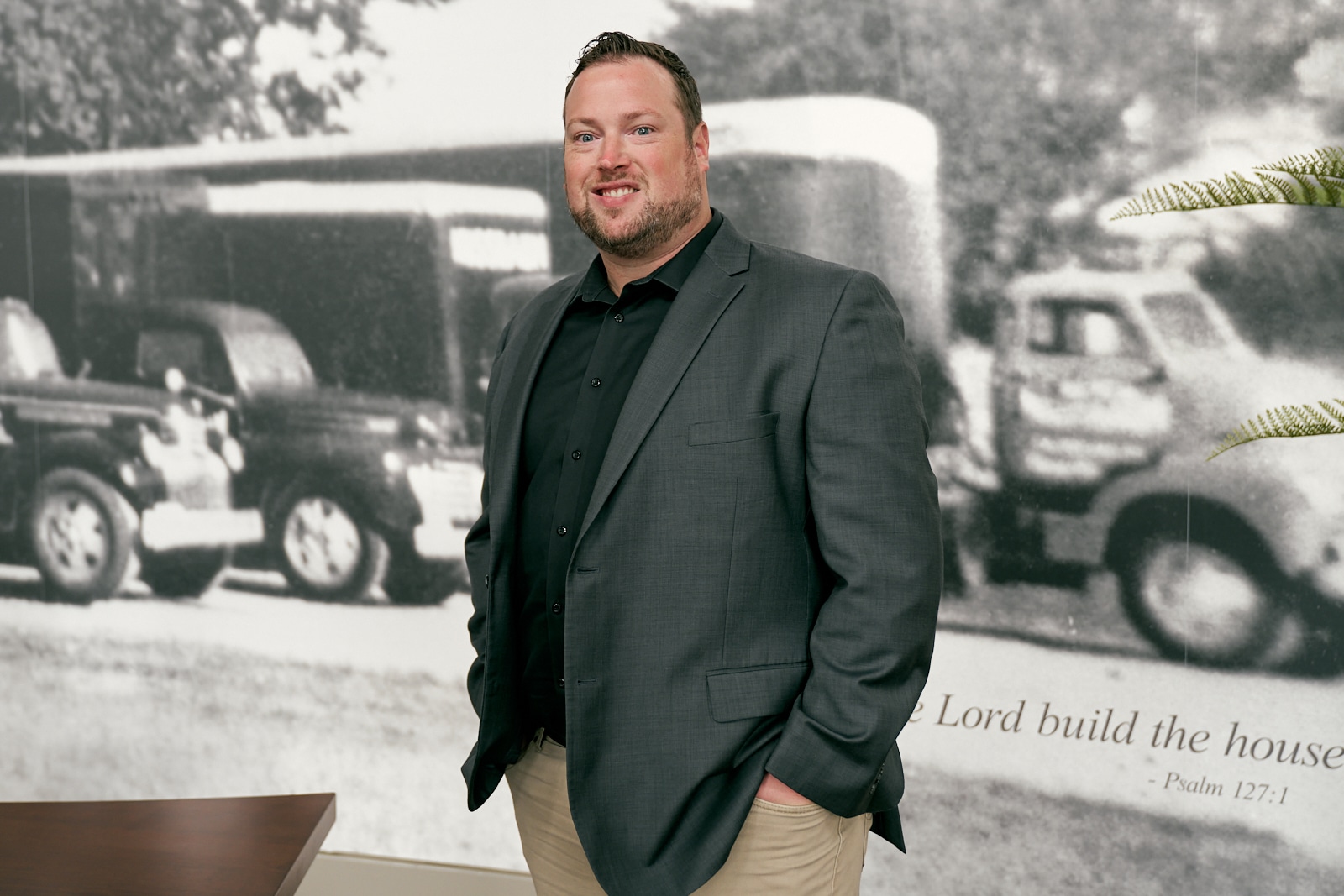 Newest team member (January 2023)
Ten years in professional sales
Known to frequent the golf course
Team picks: Chicago Bears & Georgia Bulldogs
Energized by serving customers and fulfilling Nussbaum's vision
Josh may be new, but he's no stranger to the role, having spent ten years in insurance sales. He brings a warm smile and jovial spirit to the sales team, along with a tenacious drive to finish the job. As a Business Development Manager, Josh matches our customers' needs with the right service offering. From his perspective, sales is about taking care of – and getting to know – people. He especially enjoys visiting customers onsite: "Being able to put a face to a name…really helps build a connection. I think just being able to have that interaction is really important," says Josh.
Outside of work, Josh enjoys spending time with his family and nephews, teeing off, or cheering for his favorite football teams. Go Bears!
Thanks for reading! We hope you enjoyed getting to know our sales team. If you'd like to contact the team, please visit us online or call (800) 322-7305.