For just short of a decade, Nussbaum Transportation has been selected as a Top 100 Trucker from Inbound Logistics.
We know that recognition doesn't just fall into your lap. Excellence takes hard work, dedication, and perseverance. Our drivers, shop staff, and office staff make it happen every day at Nussbaum. Each person has an active role in keeping the wheels rolling on our company.
""We work hard to be the transportation company that brands want to partner with. A company that does what we say we're going to do and works as a valued service provider to their brand. It's an honor to compete and be a part of the top 100 trucking companies in America."

Chris Aranda

Director of Sales
Days continue to go by, and we are excited to continue the journey of employee ownership at Nussbaum Transportation. Ownership drives us further into excellence because each employee-owner has something to grab hold and be proud of each day they turn the ignition, fire up a computer, or install a solar panel.
Our employee-owners are driven by a purpose greater than themselves each day.
Thank you, Inbound Logistics for this recognition.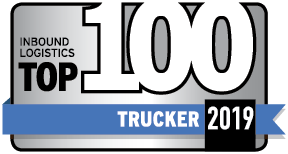 Top 100 Selection Methodology
Inbound Logistics' Top 100 Truckers list serves as a qualitative assessment of service providers we feel are best equipped to meet and surpass readers' evolving motor freight transportation needs. Distilling the Top 100 is never an easy task. Each year, Inbound Logistics editors select the best transportation providers by carefully evaluating submitted information, conducting personal interviews and online research, and comparing that data to our readers' burgeoning motor freight and logistics challenges. IL editors selected this year's class of Top 100 Truckers from a pool of more than 300 companies. The service providers we selected are companies that, in the opinion of IL editors, offer the diverse operational capabilities and experience to meet readers' unique supply chain and logistics needs.
About Inbound Logistics
Inbound Logistics is the leading trade magazine targeted toward business logistics and supply chain managers. The magazine's editorial mission is to help companies of all sizes better manage corporate resources by speeding and reducing inventory and supporting infrastructure, and better matching demand signals to supply lines. More information is available at www.inboundlogistics.com