"A special congratulations to Nussbaum for winning the award twice in a row – that's an even more difficult feat.

TCA President John Lyboldt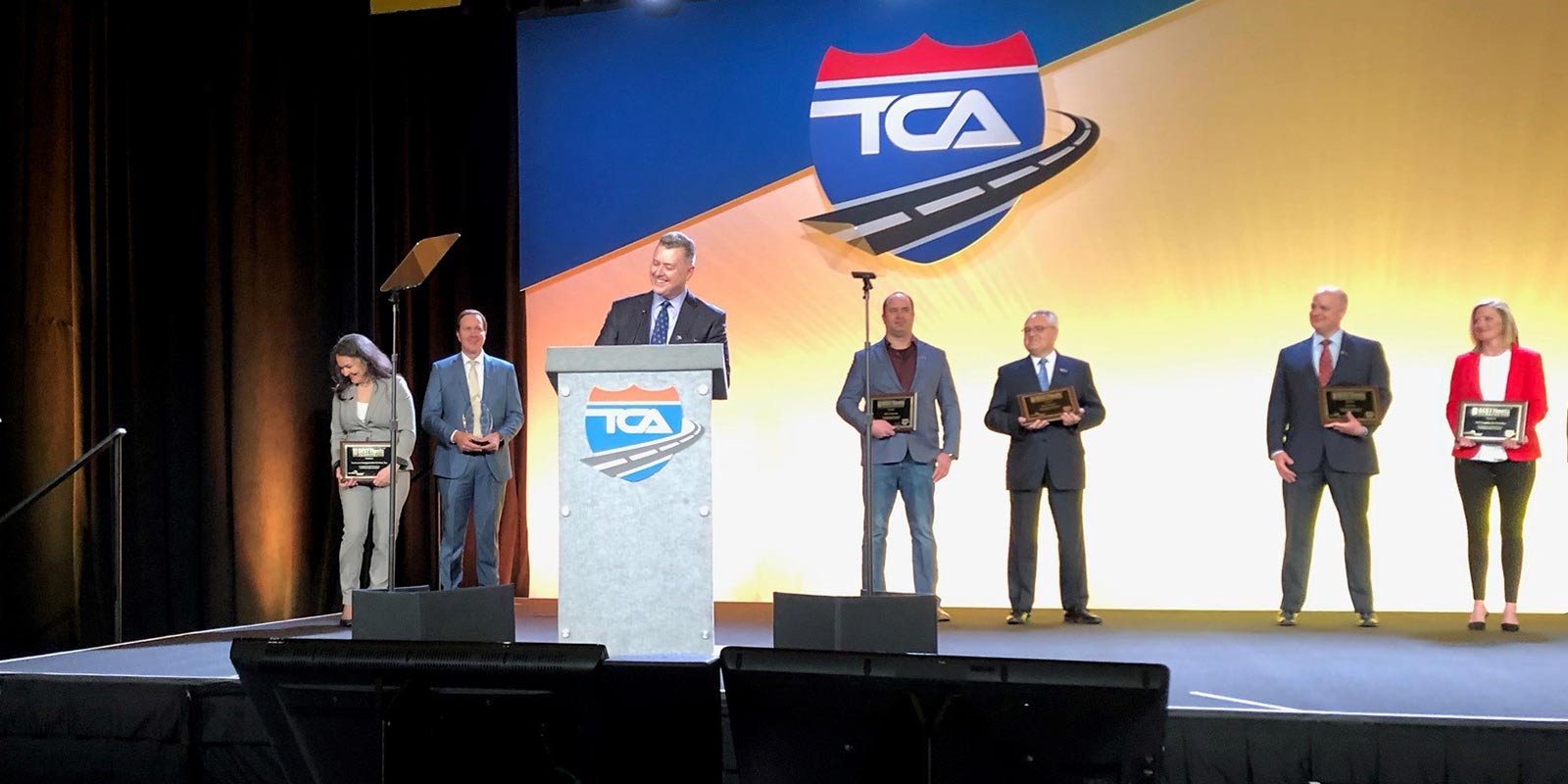 For the second year in a row, Truckload Carriers Association (TCA) and CarriersEdge have named Nussbaum as the Best Overall Fleet, this year in the large carrier category. In 2019, Nussbaum was named Best Overall Fleet in the small carrier category.
Congratulations to our Nussbaum Family of employee-owners! Out of over 200 companies, Nussbaum Transportation has clinched the top spot as the nation's Best Overall Fleet (large carrier).
This award starts with a driver nomination and continues through a grueling evaluation and a look at our best practices. How is Nussbaum innovating the transportation industry? How does Nussbaum provide growth opportunities and take care of its people?
As you can imagine, for a purpose-driven company like Nussbaum, those questions are met with answers like outstanding new technology and programs that bring our employee-owners new knowledge but also bring us closer together in a tight-knit workplace.
Our driver satisfaction is greater than 93%, which speaks for itself, but attaining that lofty number takes connection, compassion, and the knowledge that no one employee or department could do what they do without the assurance of an excellent driver to make it all happen.
To be distinguished as the Best Overall Fleet (large carrier) is an honor, and we are humbled and excited for what this brings for the future. Nussbaum is a place that makes the turbulent industry a little easier to manage. It's a place where drivers and non-drivers prosper and dig deep into the culture of employee ownership. It's a place where an employee-owner will stay for the future.
TCA President John Lyboldt comments, "To be bestowed the title of Overall Winner requires a strong combination of outstanding programs, high satisfaction levels, and great results in safety and retention, and these companies should be very proud," he continues, "A special congratulations to Nussbaum for winning the award twice in a row – that's an even more difficult feat."
And that is what makes this designation so meaningful this year. Nussbaum is never guaranteed the top spot because we've been there before. Our year-after-year improvements, dedication to providing the best for our employee-owners, and purpose-driven culture help us to stand out and continually raise the bar.
With the new additions of Certified RED, the Road Captains, the driver advisory board, Terminal Exchange the podcast, and the continued transparency in touchpoint calls between Nussbaum executives and drivers, we have worked hard this year to excel. And with unmatched employee-owners, we're proud to provide the exceptional workplace that is Nussbaum Transportation.
About Best Fleets to Drive For
Best Fleets to Drive For was launched in the summer of 2008 by CarriersEdge and Truckload Carriers Association and runs through the fall and winter each year. The program identifies trends, shares best practices, and publicly recognizes the for-hire carriers providing the best workplaces for their drivers.
Best Fleets to Drive For is open to any for-hire trucking company operating ten trucks or more in the US or Canada. Fleets do not have to be members of TCA to participate, and there's no cost to participate. To be considered, fleets must be nominated by a driver or independent contractor currently working with them, then complete the evaluation process within prescribed timelines.
Learn more at http://www.bestfleetstodrivefor.com